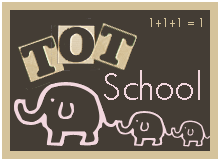 K is 34 months
 This week's book is Dinosaur Shapes. I've been watching a a friend's children the last two weeks so we haven't done much. Here is what we have done
Art :
Shapasouras
Sensory:
Dino Sensory Bin
dinosaur skeletons
mini dinosaurs
plastic leaves
sand
magnifying glass
shovel
Literacy
D is for Dino page with dino stickers, K love sticking stickers onto things.  And we did a D is for Dino magnet page with little pom pom magnets that I made.
Tot Trays:

Patten Blocks
Foam Shape Blocks
Shape Sorting / Matching
Shape Sorter
D is for Dino Puzzle
Playdough with plastic dinos and shape cookie cutters
Dinosaur jigsaw puzzle
Check out 1+1+1=1 for what others are doing this week for tot school.